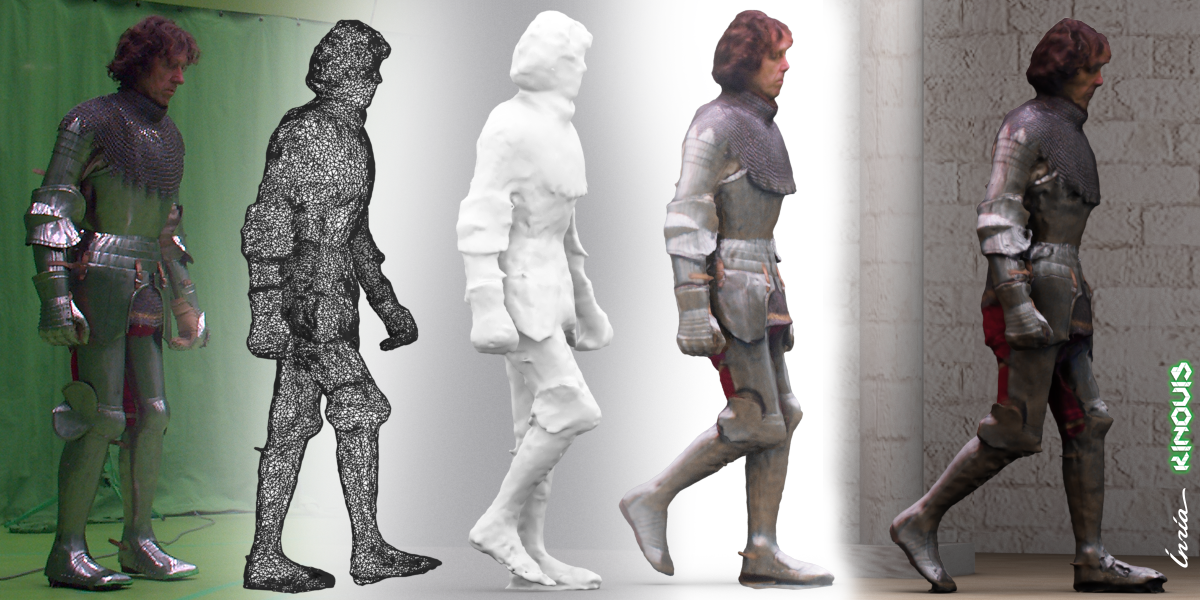 Data download
Overview
4D, or space-time, models are sequences of 3D shape models that represent live and dynamic events, human activities for instance.
This page contains such 4D models of human and non-human interactions, which can be downloaded from the "data download" section.
Softwares related to space time modeling, e.g. a viewer, are also available for download.
Objective
This repository aims to disseminate the data acquired with the Kinovis multi-camera platform (and GRImage, Kinovis ancestor), hosted at INRIA Grenoble, France.
It also seeks to be a common repository for dynamic mesh-sequences acquired from similar platforms elsewhere in the world.
Other Capture Scenarios
If you are an academic researcher, it is possible to acquire custom multiple-view image sequences in Kinovis. See this page for more information.
If you are from a European research lab, the travel costs incurred by your visit to the platform can even be reimbursed by the Visionair project (Visionair).
Legal Information
All the material on this repository is the property of its author or its institutions. Any publication or work using or including any item from this site must cite the item and its origin.
4D models are provided for personal and academic use only. Their modifications, in terms of editing, morphing or animation, may not be published without the permission of the authors. The use of any software available for download on this site is covered by the software's licence.
Academic researchers working on the modelling and manipulation of dynamic mesh-sequences are welcome to use this data, and test their algorithms. The data and software are also available for non-academic use, under the GPL license.
Other Ressources
You can find similar resources from the University of Surrey